Best Cars for Winter in Canada: These Cars Can Handle Canadian Winters
Getting ready for the winter in Canada, includes making sure you have the best winter car for the road.
If you doubt your ride can handle it, consider one of these best cars for winter in Canada.
Wintertime in Canada is tough on cars, with blistering cold weather and lots of snow and ice making for slippery roads. While cautious driving will get you far in the Canadian winter, you still need a vehicle built to handle the snow and ice like a champ.
To help you find the perfect car for you during the cold months we've put together this list of the nine best cars for winter in Canada. Whether it's a sedan, hatchback, or SUV, these vehicles are ready to tackle everything Canada's winter has to throw at them.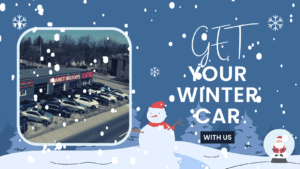 9 Best Cars for Winter in Canada
There are plenty of great vehicles you can pick from that can handle the slippery roads once the cold weather strikes in Canada. However, choose one of these nine winter-ready vehicles if you want the best of the best.
Jeep Wrangler
While the Jeep Wrangler is mainly known for its off-road prowess, its standard four-wheel drive is also quite capable when road conditions head south in the Canadian winters.
The current-generation Wrangler comes standard with a 3.6-litre V6 that delivers ample power for off- and on-road driving. You can also opt for a turbocharged 2.0-litre engine, a mild-hybrid V6 engine, or a wild 6.4-litre V8 with pavement-punishing power.
The Wrangler also has a body style to fit your needs, including a smaller, more off-road-friendly two-door model or a longer, four-door model built for the whole family.
The only downside to the Wrangler is that Jeep designed it as an off-roader first, so it's not nearly as comfortable as most models on this list.
Subaru Impreza
Subaru is the king of traction on snowy Canadian roads, and the go-to Subaru model for many buyers is theImpreza. This five-door compact hatchback has everything a buyer could want, including Subaru's famous symmetrical all-wheel drive (AWD) and a fuel-efficient 2.0-litre horizontally opposed four-cylinder engine.
Slap a set of quality winter tires on the Impreza and it essentially becomes a tank in just about any driving conditions. And because it's such a popular model across Canada, there's plenty of used Impreza inventory to choose from and save thousands over new.
The Impreza is also well-equipped in all trims, as the most recent generation comes standard with a 6.5-inch touchscreen infotainment system and Android Auto and Apple CarPlay. Plus, for those looking for more premium features, the higher-trim-level Impreza models have lots to offer, including upgraded audio systems, 8-inch touchscreens, and more.
Mazda CX-50
The CX-50 is one of the newest crossovers from Mazda, and it blends the brand's sleek Kodo design language with a more upright body, giving it a delicate balance of rugged and sporty. This midsize crossover also boasts an available 2.5-litre turbocharged four-cylinder drivetrain that delivers up to 256 horsepower for good acceleration and a respectable 7.9 L/100 km highway consumption rating.
What makes the Mazda CX-50 shine in Canadian winter conditions is its standard i-ACTIV AWD on every trim. There are no options to tick or packages to buy.
On top of all this, the Mazda CX-50 is well-equipped in even its base GS-L trim. This entry-level model comes standard with 17-inch alloy wheels, a panoramic moonroof, LED headlights, a power liftgate, a 10.25-inch infotainment screen with standard wireless Apple CarPlay and Android Auto, heated front seats and steering wheel, and tons more.
Honda CR-V
Few models scream longevity in the crossover segment better than the Honda CR-V. If you're looking for a great deal on a Honda CR-V, look at the previous-generation model, which ran through the 2022 model year — it's all-new for 2023.
This CR-V came standard with a 1.5-litre turbocharged four-cylinder engine that delivered 190 horsepower to its front-wheel-drive system via a continuously variable transmission (CVT). However, an all-wheel-drive system is standard in all but the entry-level LX-2WD trim, making the CR-V one of the best cars for winter in Canada.
The CR-V comes decently equipped with standard Apple CarPlay and Android Auto, a 160-watt audio system with four speakers, a 7-inch touchscreen infotainment system, Bluetooth connectivity, and driver-assist technology like automatic high-beam headlights, automatic emergency braking, forward collision warning, lane-departure warning, and more safety features.
Toyota RAV4
Another legend of quality in the winter-ready crossover segment is the Toyota RAV4. This notorious compact crossover has been through many variations throughout its lifetime, but the most recent model boasts a rugged, upright body with just the right amount of creases and sharp body lines to give it a legit off-roader look in certain trim levels.
The current RAV4 comes standard with a 2.5-litre four-cylinder powertrain that delivers 203 horsepower, though you can opt for a 219-horsepower RAV4 Hybrid. Front-wheel drive (FWD) is standard, but winter-driving-friendly AWD is available — hybrid models come standard with AWD. If you want extra ground clearance and a more off-road-ready crossover, check out the Trail AWD trim level.
The Toyota RAV4 comes standard with loads of features, including five USB ports, heated front seats, Apple CarPlay and Android Auto, a 7-inch touchscreen, blind-spot monitoring, rear cross-traffic alert, and much more.
Audi A3
Want something compact, luxurious, and affordable that can also handle Canada's slippery winter driving conditions? Look no further than the Audi A3. This subcompact sedan packs a standard 2.0-litre turbocharged four-cylinder engine that pushes 201 horsepower and 221 pound-feet of torque through a seven-speed dual-clutch transmission and out to all four wheels via Audi's legendary quattro AWD.
This setup not only makes it pretty quick — 6.7 seconds to 100 km/h — but it also makes it a tank in the snow and ice.
On top of this, the A3 is a legit luxury sedan, packing tons of premium features, including standard LED headlights, 17-inch alloy wheels, heated mirrors, panoramic sunroof, heated front seats, a 10.1-inch infotainment screen, digital gauge cluster, leather upholstery, and more. As for safety tech, it includes standard automatic emergency braking, parking assist, and a rearview camera.